Welcome to the Warhammer 40k fanon
A creative wiki from Wikia
Wikia's no.1 place for all Unofficial Warhammer 40,000 fanfiction!
The Warhammer 40k Fanon is a community where you can create your own stories, characters and places in the universe of Warhammer 40,000.
All of the contents of this wiki are not canon. To read canon information about the Warhammer 40k universe, see: The Warhammer 40k Lexicanum. However, here you can expand on the canon without contradicting it.
Also, you should not add fanon or references to other game series, and do not post your house rule ideas here either. Doing so will get your articles deleted.
We are currently editing 1,598 articles.
All pages can be edited and you are welcome to join us and contribute to this wiki. Everyone is free to create a new page or edit an existing one, but do not edit pages without the authors permission. If you have any questions about the wiki or helping out, you can ask one of the adminstrators, or one of our many helpful users.


All new members remember to read the rules before making an article so you know what is allowed and what isn't.
<createbox> width=40 break=no buttonlabel=Create new article bgcolor=#EAEEFF </createbox>
Need Help?
Not sure where to start?
How can I write 40k fanon?
Check out our Guide Portal for instructions and guidelines on how to effectively write an article to our standards.
Also check out our article quality policy to make sure you can follow our minimum guidelines!
How do I use templates?
Templates are great for making your articles easy to read and accessible. Check out Template Help for a list on the most common templates.
++Thought for the day: Only the awkward question; only the foolish ask twice++
Affiliate Wikis

Haven't had your fill of power armor? Try out this wiki!
Other Warhammer 40k Wikis
| | |
| --- | --- |
| · | |
| "I want to write 40k fanon, but I don't think this is the wiki for me!" - Good news, you have alternatives! | Also check out Lexicanum to read up on the canon! |
Featured Article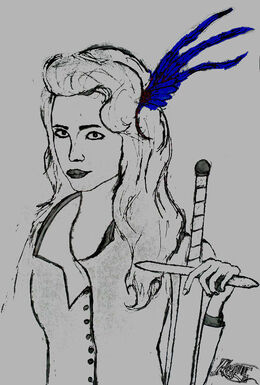 Ceridwen Lothringen was an inquisitor who lived in mid M41 and acted mainly in the Iox sector. She was known to be of the Lothringen family, descending from the line of Velgram d'Ark and Naomi Lothringen all the way back from M40. Ceridwen was widely known for her fierce and fiery nature. She was notorious member of Ancalyan's Cabal, being one of the only monodominant-inquisitors in it, and later of a cabal of her own, Blessed Poet. Rightfully feared by her radical colleagues, she had a sinister reputation as an inquisitor-hunter..... Read more
Disclaimer
GW, Games Workshop, Citadel, Black Library, Forge World, Warhammer, the Twin-tailed Comet logo, Warhammer 40,000, the 'Aquila' Double-headed Eagle logo, Space Marine, 40K, 40,000, Warhammer Age of Sigmar, Battletome, Stormcast Eternals, White Dwarf, Blood Bowl, Necromunda, Space Hulk, Battlefleet Gothic, Dreadfleet, Mordheim, Inquisitor, Warmaster, Epic, Gorkamorka, and all associated logos, illustrations, images, names, creatures, races, vehicles, locations, weapons, characters, and the distinctive likenesses thereof, are either ®, TM and/or © Copyright Games Workshop Ltd 2000-2022, variably registered around the world. All images and instances on this website used without permission. No challenge to their status intended. All Rights Reserved to their respective owners.